205,000 employees
37 % are under 30 years old
40,4 % of women in management
91/100 Average score in the equality index
8 500 employees with disabilities

More than 22,700 organic products of which 2,700 private-label food products
1,3 billion € of Organic turnover +12 % with respect to 2019
200 100% organic stores
100 % of eggs sold in stores in France come from cage-free hens
– 10 % greenhouse gas emissions between 2015 and 2020*
-9 % of the Group's power consumption in Kwh/m2 between 2015 and 2020
114 GWh of renewable electricity produced by solar power plants located on the Group's sites

89 % of the factories located in at-risk countries producing private-label products are covered by an ICS social audit
100 % of the palm oil used in the private-label food products in France is RSPO-certified
4 foundations that act in favour of the most vulnerable in France and Latin America
More than 135,000 personnespeople benefiting from the Foundations' actions in 2020
Close to 19,000 tons of goods donated to Food Banks in 2020

CSR Performance monitoring
In 2020, the Group's ESG commitment was recognised by the Wall Street Journal, which ranked it 40th amongst the world's top 100 most responsible businesses.
Casino Group was also ranked first in its sector by Vigeo Eiris and was assigned a B grade by the CDP. In 2020, Casino Group achieved a Tier 3 score in the Business Benchmark on Farm Animal Welfare (BBFAW), and was thus among the highest-ranking French retailers on the issue.
Rating year


2020   

2019     

2018   

2017
The Group's inclusion in these non-financial indices, which comprise the top-performing companies in terms of social, environmental and governance criteria, demonstrates the depth of its commitment to CSR.
Since 2012, Casino Group has assigned greatest importance to the following three non-financial indices: Euronext Vigeo Eiris, FTSE4GOOD and SAM-DJSI (S&P Global).
In 2020, the Group was part of the following indices:
Euronext Vigeo Europe 120, Euronext Vigeo Eurozone 120, Euronext Vigeo World 120;
FTSE4GOOD Europe Index, FTSE4GOOD Developed Index, FTSE4GOOD Developed Minimum Variance Index;
MSCI;
Grupo Éxito joined the DSJI index as one of the ten most sustainable retailers in the world and GPA joined the ISE B3 index, the CSR index of the Brazilian stock market which recognised its climate commitments.
Consolidated workforce by country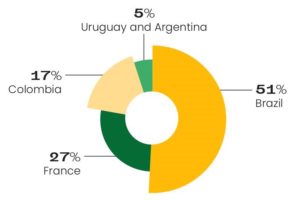 73% of the Group's workforces is located in Latin America and 27% in France.
Consolidated workforce by age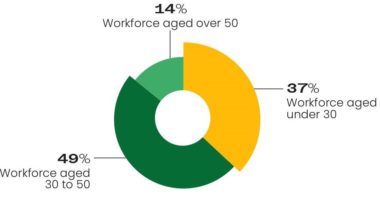 Committed to encouraging the integration of young people into the job market, Casino Group has more than 76,000 employees under the age of 30.
Consolidated workforce by type of employment contract (permanent/fixed term)

% permanent employees


% of fixed-term employees
A large majority of Casino Group employees (95%) are on permanent work contracts.
Workforce breakdown by full-time/part-time employment

% in full-time employment


% in part-time employment
84% of employees work full time.
Representation of women in the consolidated workforce and in management by country

% of women employees


% of women in management
In 2020, the Group met its commitment to increase the number of women in management by 5 percentage points between 2015 and 2020. The increase in the number of women executives within the Group is one of the two CSR criteria taken into account in the variable compensation of executives in France. The Group is active on the full range of workplace equality issues, including gender diversity across job categories, career management services for women, fairness in human resources processes (pay, training, hiring and promotions) and parenthood. Casino was awarded the "Afnor Workplace Equality Label" in 2013. In 2016, the Group adopted the Women's Empowerment Principles backed by UN Women.
Change in the number of Group employees with disabilities
The Group employs 8,460 people with disabilities, an increase of 27% since 2015, a positive outcome of programmes in place for several years. In Brazil, GPA has doubled the number of disabled employees since 2015. The Group has therefore met its target of raising the number of employees with disabilities by 1 percentage point between 2015 and 2020, from 3% to 4.1% of the workforce.
Number of ICS audits conducted by the Group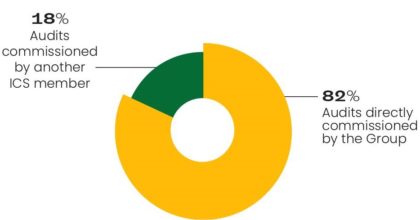 1,188 ICS social audits were carried out in factories involved in the production of private-label products for the Group in 2020, including 82% commissioned by Casino Group. The Group has set an objective to have all of its operating plants covered by a valid ICS social audit (plants based in countries at risk and producing private-label products for the Group).
Donations of foodstuffs in tonne*
*Data excludes Disco Devoto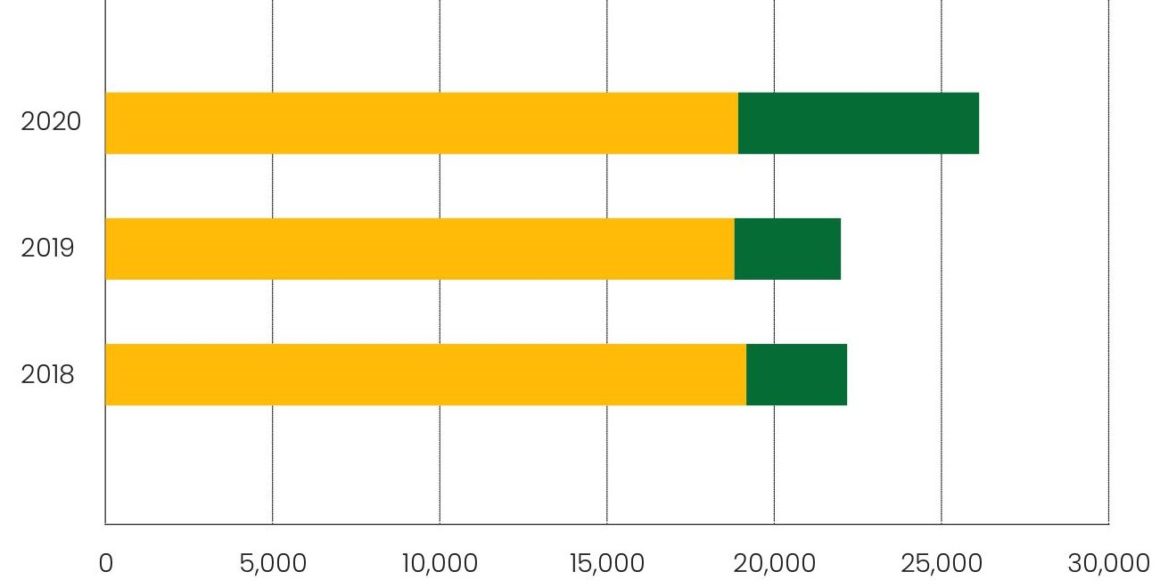 Donations from stores and warehouses


Collection from customers
In 2020, the Group's stores and warehouses donated the equivalent of more than 37 million meals, up 20% compared with 2017. Overall (through stores, warehouses and nationwide collections), the equivalent of 52 million meals were made available to food bank networks or similar charities. In 2020, GPA organised a solidarity campaign during the Covid-19 crisis, generating nearly three times more food donations from customers than in 2019. The Group first partnered with FFBA in 2009, and renewed the alliance for a further three years in 2019.
Estimated number of people reached through foundations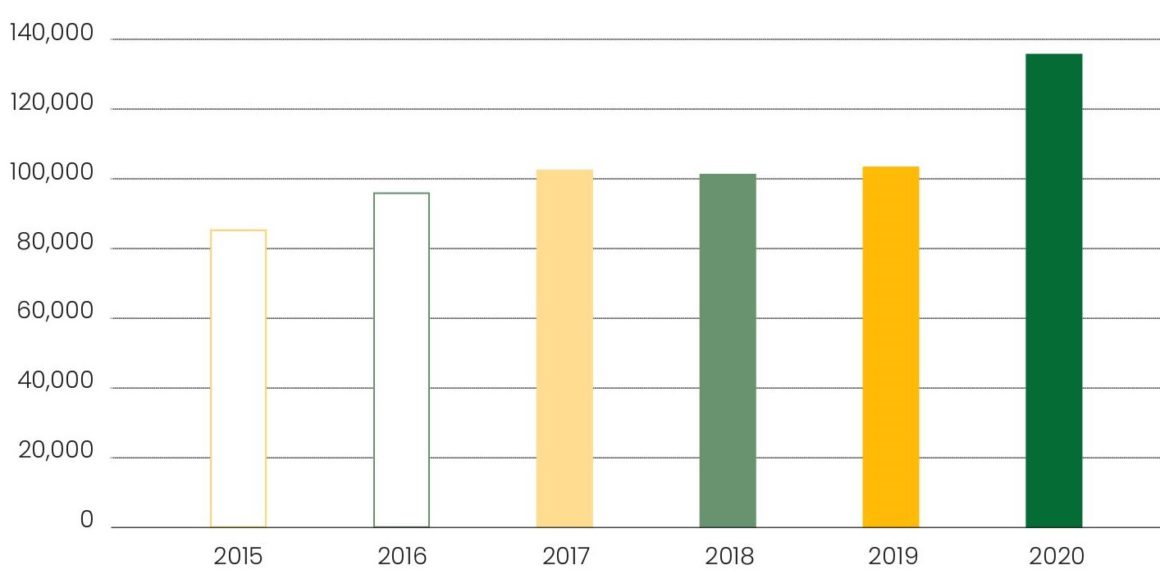 More than 135,500 people benefited in 2020 from the initiatives led by Casino Group's four foundations.
Environmentally proactive Group
Change in greenhouse gas emissions (1)


Scope 1(2)

Scope 2 (3)
– 2020 objective depends on the trajectory of the Group approved by SBT

Change in greenhouse gas emissions in France(1)


Scope 1(2)

Scope 2 (3)
– 2020 objective depends on the trajectory of the Group approved by SBT
(1) Data have been extrapolated for all of the Group's entities. In 2020, primary data integrated in Scope 1 represented 96% of Group data, i.e., an estimated 4%, while primary data integrated in Scope 2 represented 97% of Group data, i.e., an estimated 3%.
(2) Scope 1 includes greenhouse gas emissions from energy consumed directly by the Group, emissions from leakages of refrigerants used in cooling cabinets in stores, warehouses and air conditioning systems, emissions related to the transport of goods under operational control and employee business travel using company vehicles.
(3) Scope 2 emissions or indirect emissions relate to the Group's energy consumption, which mainly concerns electricity consumption.
Breakdown of Scope 1 and 2 greenhouse gas emissions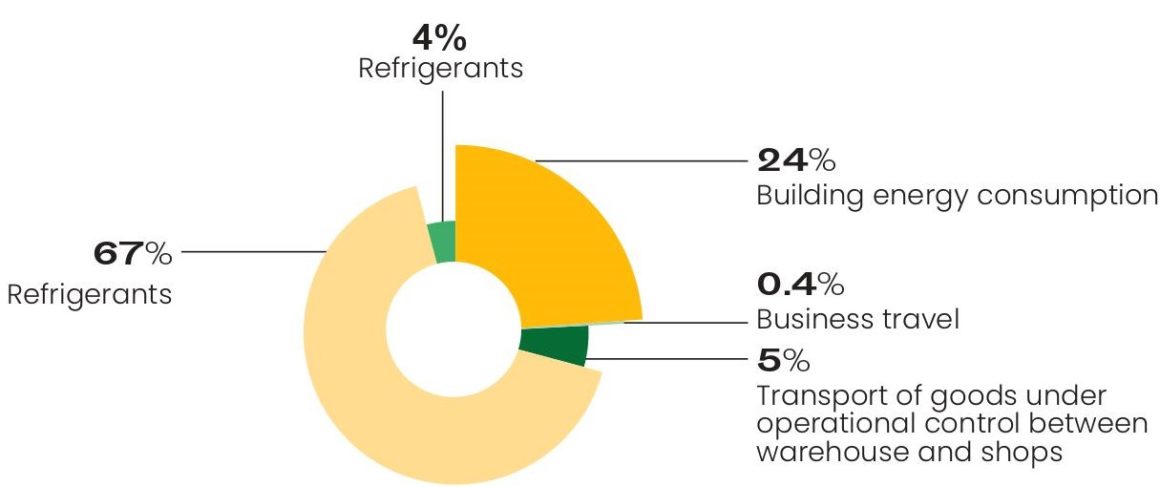 In line with the international objectives set out in the Paris climate agreement, Casino Group has undertaken to reduce its Scope 3 greenhouse gas emissions by 10% by 2025 versus 2015, and its Scope 1 and 2 emissions by 18%. These targets were validated by the Science Based Targets Initiative (SBTi).
The Group has measured the carbon footprint of its operations since 2009. The emissions associated with refrigerants and energy used by buildings represented 95% of its Scope 1 and 2 greenhouse gas emissions in 2020.
The Group reduced its Scope 1 and 2 greenhouse gas emissions between 2015 and 2020 by 10%, with a 34% decrease in France. The 5% drop in emissions between 2019 and 2020 was due to ongoing Group-wide efforts to improve its energy efficiency, use more refrigerant gases with a lower impact on the climate and reduce the carbon footprint of the transport of goods in France. The Group's performance in 2020 in Scopes 1 and 2 was in line with the defined and approved SBTs.
Évolution de l'efficacité énergétique des magasins du Groupe
Proportion of renewable energy used by the Group
The observed improvements in electricity use per sq.m are attributable to the ongoing roll-out of energy performance contracts in all countries and the implementation of energy management systems in accordance with ISO 50001 recommendations. The Group's average electrical intensity declined by 4% between 2018 and 2020. 26% of the electricity used by the Group comes from renewable energy sources, and in 2020 the Group produced the equivalent of 5% of the total electricity consumed with the solar power plants installed at its various sites.
Change in volume of waste recovered (1)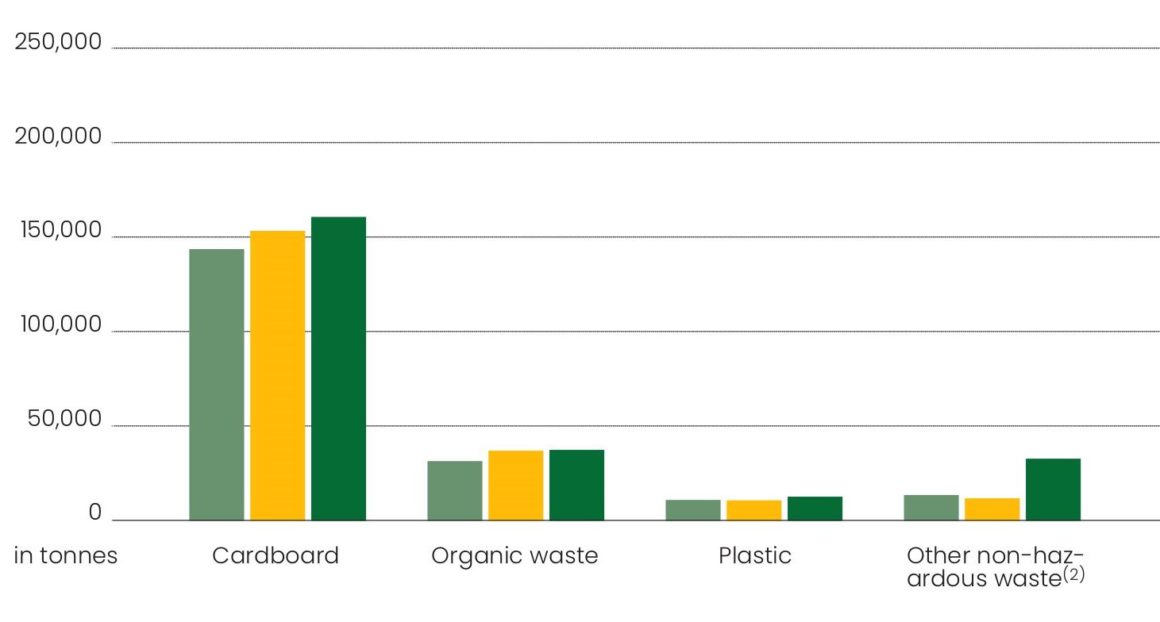 2018  

 2019  

 2020   
The volume of waste recovered in stores and warehouses increased by more than 20% between 2018 and 2020. Cardboard accounts for more than 65% of all recovered waste.
Percentage of Group waste recovered (2020)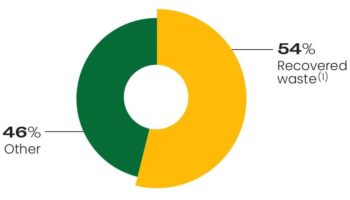 Percentage of waste recovered in France (2020)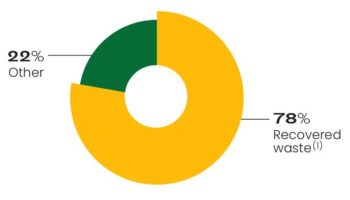 (1) Non-hazardous store waste.
(2) Other non-hazardous waste: mainly wood, bone and tallow, used fuel oils, scrap and metal, and non-hazardous industrial waste for 2020.
Number of products certified as organic and "sustainable"* (private-label and national brands)
*"Certified sustainable" products include those identified by a label which result from organic farming and fair trade, with certification attesting to an environmental progress approach, including MSC, NF Environment, FSC, PEFC and European Ecolabel labelling. The 2019 data was recalculated after an adjustment to the number of certified products meeting the indicator criteria at Éxito.
Organically farmed products
Products certified as "sustainable"

 2020   

 2019 

 2018  
To support organic farming and reduce the use of pesticides, Casino Group is extending its range of certified organic products, with nearly 22,700 national and private-label brands in 2020, an increase of 15% compared with 2018. Organic products are sold in all of its banners, in order to make them accessible to all. The Group generated sales of €1.3 billion with organic food products in 2020.
Committed to marketing a range of products that are more respectful of the environment and biodiversity, Casino Group sells more than 33,000 certified sustainable products its stores (an increase of 12%).
of eggs sold came from cage-free hens in France
In 2020, the Group discontinued the sale of eggs from caged hens in France (under private labels and national brands). Casino has already committed to going a step further by pledging to eliminate egg products from caged hens in all its private-label products by 2025. GPA has also committed to discontinuing the sale of eggs from caged hens under its private labels by 2025. In addition, the Group is continuing to roll out animal welfare labelling on its products.
Products containing palm oil
RSPO-certified palm oil in France
In 2011, the Group joined the Roundtable on Sustainable Palm Oil (RSPO), pledging to use only RSPO-certified palm oil in France by 2020, prioritising crops certified to "Segregated" or "Identity Preserved" standards, which offers the added advantage of being able to trace the palm oil to its source.
Unless otherwise specified, the human resources, social and environmental data relates to the entities under the operational control of Casino Group and any of its majority-held subsidiaries, in France and abroad.
Data concerning affiliates, franchises and business leases are not included. The 2020 CSR reporting scope includes the consolidated data of store activity and the associated support services (logistics, purchasing, human resources, etc.) of business units located in:
France, comprising operations under the Casino, Monoprix (including Naturalia), Cdiscount and Franprix banners;
Brazil, encompassing the operations of Pão de Açúcar Group (GPA) and its entities Multivarejo and Assaí;
Colombia, comprising Grupo Éxito operations;
Uruguay, comprising Grupo Disco and Devoto operations;
Argentina, comprising Libertad operations.
Environmental data cover sites that operated for a full 12-month period.
The indicators proposed per square metre of retail space only cover the data reported by stores.
Data from previous years presented in this document were recalculated on the 2020 CSR reporting scope to enable comparisons with performance indicators.
To go further and learn more: