The main waste generated by stores is cardboard, plastic, paper and organic waste. The group aims to reduce waste and increase recovery rates by supporting the development of sustainability of local recycling networks.
More than 188,000 tonnes of waste was recovered (cardboard, papzer, plastic and organic waste).
In Brazil, large-scale waste sorting is developing at GPA banners: 553 stores sort their cardboard and 279 sort their organic waste for composting.
In Colombia, Grupo Exito has strenghthened its waste management policy by appointing environment representatives at stores who are responsible for raising employee awareness. In 2016, 33,000 tonnes of operational waste was recycled. The banner took part in the nation-wide "Limpiemos Colombia" campaign aimed at raising public awareness about waste recycling.
To promote the emergence of a circular economy in which used products serve as raw materials, the Casino Group provides in-store collection points in France, Brazil, Colombia and Argentina where its customers can return their used products.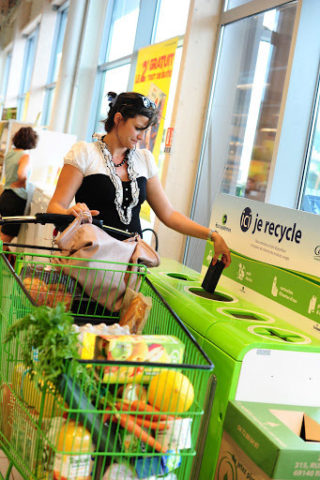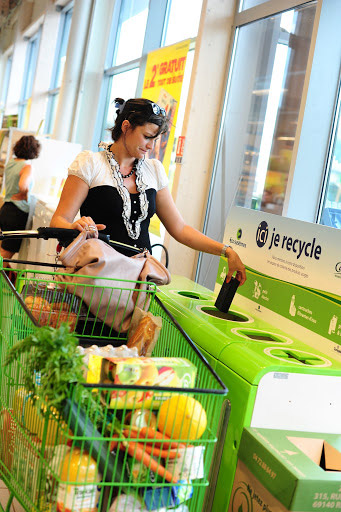 Reducing the use of plastic bags
To encourage more sustainable consumption and reduce household waste, the Casino Group has since 2003 had a policy of reducing the number of disposable bags provided, offering a range of reusable bags in all its stores. Within the scope of COP21, the Casino Group presented 12 solutions to fight against climate change, including the use of reusable bags, which the Group's stores offer.
In France, from 2003 to 2015, the number of free disposable check-out bags distributed by Casino fell by 95%. In Paris, Casino supermarkets and Franprix stores decided to mark the opening day of COP21 by permanently removing all disposable carry bags as a sign of their commitment to protecting the environment. These banners made this choice more than six months before such bags were officially banned in 2016 under the energy transition law.

In other countries, subsidiaries are deploying an increasing variety of actions to encourage a preference for reusable bags (in store displays, loyalty programme incentives, etc.) and reduce the use of disposable plastic bags.
In Brazil, GPA has set up a rewards system for customers who do not use plastic bags, offering stylish new reusable bags. In São Paulo, GPA and the other major retailers withdrew all free plastic bags from their stores in 2015. As part of its "Juntos en Acción" CSR programme, Libertad has rolled out initiatives for reducing the use of plastic bags in its stores, notably by opening a special checkout for its so-called "caja verde" customers. These initiatives have resulted in a 90% reduction in the volume of bags handed out since 2015.
>> Click here to learn more about Casino Group's commitment and actions