Jean-Charles Naouri (born March 8, 1949 in Bône (now Annaba), Algeria, is a French entrepreneur who is currently Chairman, Chief Executive Officer and controlling shareholder of the Casino Group as well as CEO of Euris SAS.
Jean-Charles Naouri is a former student of ENS (in Science), Harvard University and ENA (class of Guernica). He holds a State PhD in Maths. He started his career as a Tax Inspector in the Treasury Directorate and then, from 1982 to 1984, he acted as Cabinet Director in the Ministry of Social Affairs and National Solidarity. From 1984 to 1987, he was Head of Cabinet for the Ministry of Economy, Finance and Budget and he contributed to the implementation of reforms to modernise the French financial system (creation of MATIF, stock options, certificates of deposit, commercial papers).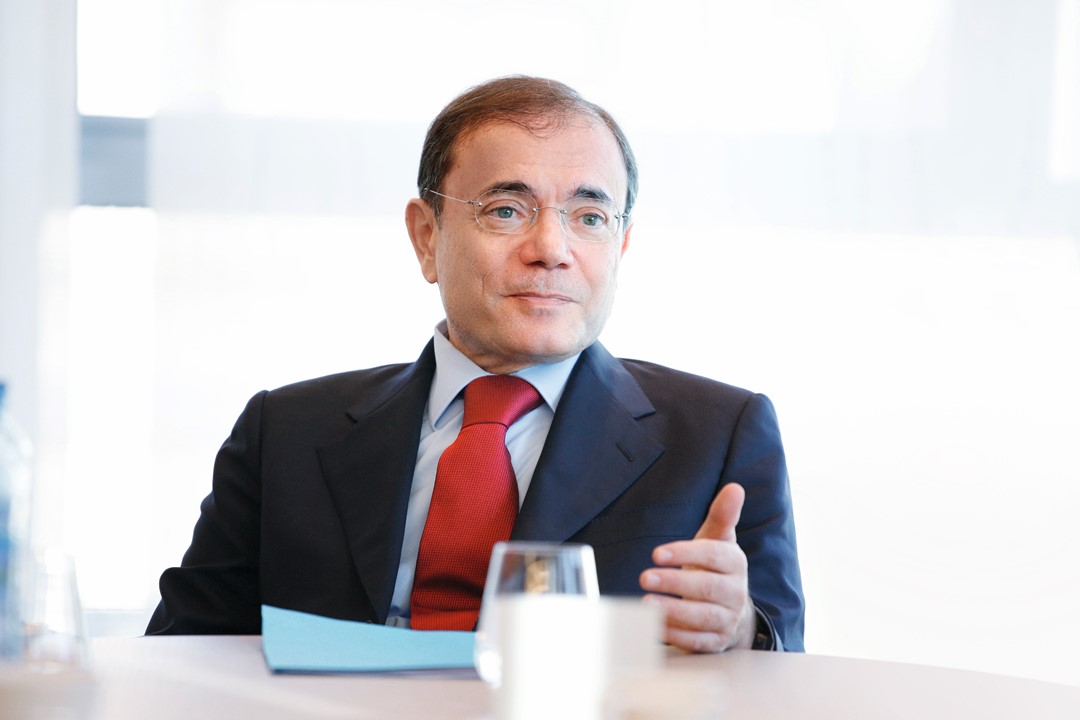 In 1987, Mr Naouri left government service and joined Rothschild & Cie Banque as Managing Partner. Around the same time, he established his own investment fund, Euris, which acquired minority equity investments in industrial companies, while rapidly increasing its investment capabilities. In the early 1990s, Mr Naouri shifted his investment strategy in order to support sustainably the development of the companies in which he invests. As part of this new strategy, he acquired the Brittany-based retailer Rallye in 1991, which at the time was facing serious cash flow issues/challenges. Convinced of the future potential for retailing and the benefits of combining the two companies, he engineered a merger between Rallye and the Casino Group in 1992, thereby becoming Casino Group's largest shareholder. This enabled the Group to experience huge growth both in France and abroad from 1992 to 1997. Indeed, over a period of 5 years, the turnover doubled for the Casino Brand.
In 1997, a hostile takeover bid for the Casino Group by rival retailer Promodès was thwarted by the successful counter-offer from Jean-Charles Naouri, the Guichard family and Casino management, thereby maintaining the Group's independence and guaranteeing the future of all staff. Rallye hence became majority shareholder of the Casino Group. The Group kept developing in France, where Jean-Charles Naouri betted on the success of convenience stores, by buying important shares in successful Discount and convenience brands such as Franprix, Leader Price, Monoprix and the e-commerce site C-Discount.
In March 2005, Mr Naouri became Chairman and Chief Executive Officer of the Casino Group. He adapted the strategy of the Group to the market, now mature and complex in terms of consumption, while strengthening the Group's presence in international countries which demonstrated rapid growth.
In France, the multiformat convenience positioning of the Group ensures its strong position. The Group is also present on the Internet with CDiscount, e-commerce leader in France. Internationally, the Casino Group strenghtened its position in demographically-dynamic countries with positive perspectives of growth thus becoming the first food retailer in South America, Brazil and Colombia as well as in the Indian Ocean and Vietnam and second in Thailand.
In June 2012, the Group also purchased the 50% share detained by Galeries Lafayette Group in Monoprix and it acquired a controlling interest in Brazilian retailer Pão de Açúcar, the country's first retailer.
Social responsibility commitments of Jean-Charles Naouri
Driven by Jean-Charles Naouri, Casino Group strengthens its social-responsibility commitments. Within the Group, many actions are carried out in favour of training, skill development and the promotion of equal opportunities.
Casino is also one of the first groups to have developed the "recruitment method by simulation", which means prospective candidates aren't hired based on their CV but on their capacity to do their job efficiently. The Group implemented "voluntary testing" in order to gauge practices in terms of discrimination during the hiring process and take measures to raise awareness and offer training.
Similarly, "Handipacte", which is a policy in favour of the employment of the disabled, was also implemented. Thanks to these training and adaptation measures, it strengthened recruitment or job retention for disabled people (with a hiring rate of 9.80 % in Casino vs a legal obligation of 6 %). Casino is therefore the first retailer to have obtained the "Diversity Label" in 2009.
Jean-Charles Naouri is also Vice Chairman of Casino Group's Corporate Foundation, which he founded in 2009 to improve access to culture and knowledge for children who are disadvantaged or suffering from illness.
In addition to his business activities, Jean-Charles Naouri is also the founder of the Euris Foundation, which he created in 2000. Each year, the Foundation grants 50 scholarships to promising high school graduates from impoverished neighbourhoods in France. This scholarship enables them to have extra resources for their 2-year studies.
In the same vein, he is President of the "Promotion of Talents" Association which gathers many big French companies to help young people fund their professional project.
Finally, Jean-Charles Naouri is Honorary Chairman and Trustee of Ecole Normale Supérieure's Institut d'Expertise et de Prospective, which is responsible for developing ties between the school and the corporate world.
In June 2013, Mr. Naouri was appointed by France's Ministry of Foreign Affairs to be special representative for Economic relations with Brazil.
He is also Officer of the Legion of Honour.
Main Executive Positions
Chairman and Chief Executive Officer of Casino, Guichard Perrachon (listed company)
Chairman of Euris (SAS)
Positions within the Casino/Euris Group as of 8 March 2016
Chairman of the Board of Directors of Rallye (listed company)
CEO of Euris Holding
Chairman and member of the Board of Directors of Companhia Brasileira de Distribuição (CBD, listed company – Brazil)
Chairman and member of the Board of Directors of Sendas Distribuidora S.A. (Assaí, listed company – Brazil)
Vice-President of Casino Company Foundation
Chairman of Euris Foundation
Positions outside the Casino/Euris Group
Trustee of F Marc de Lacharrière (Fimalac) (listed company)
Honorary Chairman of the Institute of École Normale Supérieure
Official photos of Jean-Charles Naouri