The Casino Group's CSR programme helps to create and strengthen sustainable, trust-based relationships with employees, customers, suppliers and all other stakeholders, while respecting each host country's culture and local practices.
Embedded in all Group activities, CSR priorities act as a driver for employee motivation. They are designed to improve the Group's social, human resources and environmental impact and thereby enhance its financial performance.
The Casino Group's CSR programme covers 15 priorities based on five responsibilities: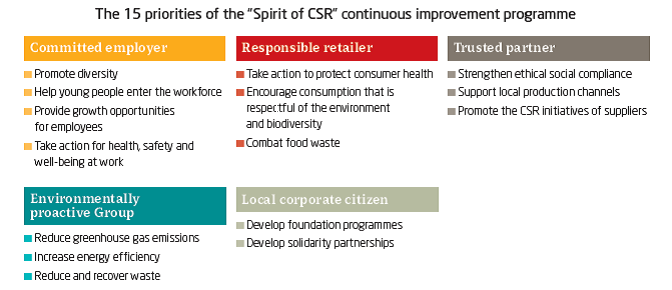 In 2015, the Group carried out a study of the most strategic challenges that it faces at the Group level in order to assess and update the CSR continuous improvement programme. This materiality analysis enabled CSR challenges to be ranked in order of priority based on (i) their medium-term impact on the Group's development, and (ii) their potential to create value for the Company and their importance for stakeholders.
Performed by a third party, this work shined a spotlight on the major challenges facing the Casino Group, as shown below: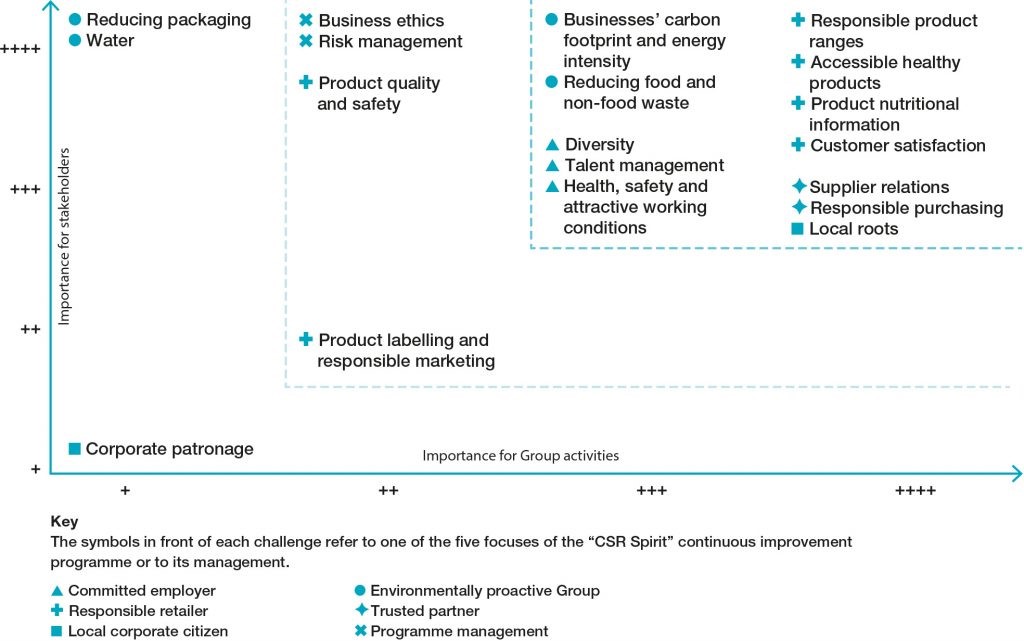 The materiality analysis showed that the main challenges have been taken into account in the Group's "CSR Spirit" continuous improvement programme. At the same time, it highlighted the importance stakeholders place on such challenges as health and safety, working conditions, product accessibility for all segments of society, customer satisfaction, food waste, and product ranges that support biodiversity.
This CSR improvement programme dovetails perfectly with the nine commitments of the Group's Ethics Charter. This charter highlights the Group's attachment to the principles enshrined in the Universal Declaration of Human Rights and the International Labour Organization (ILO). Under the charter's nine commitments, the Casino Group undertakes to abide by national and international laws, principles, standards and regulations, to implement fair practices in its commercial relations, to encourage the development of quality employee relations, based on respect for employee representative bodies and constructive dialogue, to promote equal opportunity in access to employment, training and career growth, and to take account of the diversity of expectations, needs and lifestyles of the stakeholders with whom the Group interacts.