To help customers consume more environmentally friendly products, Casino Group stores now offer more than 19,680 products that are certified environmentally responsible, an increase in 13% compared with 2015. These products account for a growing share of revenue at Group entities.
Support organic farming
The Group offers a wide array of organically grown food products, with more than 17,420 SKUs on store shelves across the Group, up 26% compared to 2016. Of these, 2,400 are marketed under private label brands. In addition, the Group is expanding its organic banners in France with Naturalia.
Internationally, Group banners market nearly 1,860 organically grown food products, which are regularly advertised and showcased to customers either in dedicated corner displays or in the usual store sections. GPA's Pão de Açúcar banner, for example, promotes organically grown products during its "Organic Thursday" events, offering customers a 20% discount.
Better farming practices
Casino Group is also developing private-label brands offering better agricultural practices under the name "Agriplus" from Casino, which is guaranteed without pesticide residues and "TOUS CULTIV'ACTEURS" from Monoprix which aims at promoting a more sustainable agricultural model, which is also more respectful of pollinators.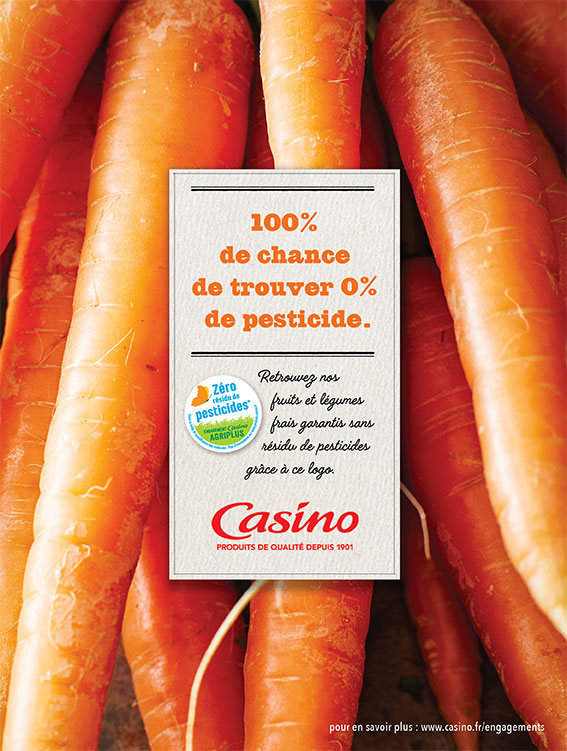 Raise customer awareness
The Group also organises information and awareness campaigns in its stores regarding responsible consumption.
Casino was the first retailer to introduce carbon labelling on its private-label products to make its customers aware of the environmental impact of their consumption. Launched in 2008, this labelling was gradually replaced by the environmental index (EI), which features the impact of the full product life cycle on greenhouse gas emissions, water consumption and aquatic pollution. This index can be found on Casino and Monoprix private-label products. This process provides the Group with more insight into the environmental impact of products as well as informing and educating customers and encouraging suppliers to implement improvement actions. An Environmental Index calculation tool is deployed among industrial food producers to step up its use.
The Group's banners offer a number of product ranges meeting Good Agricultural Practices (GAP) certification, with more than 930 products on store shelves in 2016. The Group encourages its suppliers in other countries to apply GAP. For this reason, Exito put in place a GAP certification programme and more than 200 fresh products were certified in 2016. 
In 2016, Monoprix launched the "Monoprix Tous Cultiv'acteurs" continuous improvement programme, covering some 20 fruit and vegetable products. This program aims to bring customers healthy products that taste good, while helping partner producers to move towards more environmentally friendly farming practices and reduce the use of pesticides in order to protect pollinators. 
Casino promotes local products through its "Le meilleur d'ici" concept, which supports 1,500 local suppliers located within 80km of the store. Monoprix carries a "Made in pas très loin" range of products made within 100km of the store, representing 1,500 items of which 20% are available exclusively at the banner. 
In Brazil, a corporate communication campaign was launched in 2016 featuring several healthy, easy-to-make recipes using nutritious ingredients. GPA's responsible food truck offers free cooking workshops and recipes developed by nutritionists to promote a healthy and environmentally friendly diet. A total of 2,300 people have taken part in these workshops.
To go further and learn more: